Accessibility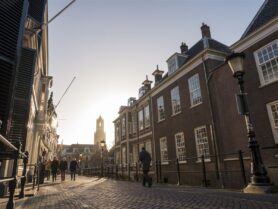 Both the city of Utrecht and Utrecht University are aiming to be as accessible as possible to everyone. If you would like to prepare your trip, the Wheelmap of Utrecht will show you the areas that are accessible by wheelchair. For Utrecht University, this link will direct you to the accessibility of the individual buildings.
If you are travelling by train, it is possible to request travel assistance from the Dutch Railways via their website. Train stations and bus stations are also equipped with guide lines for the visually impaired, information on which may be found here.
In terms of accommodation, it is possible to use 'accessibility' as one of the search keys on, for example, booking.com or A-Hotel.com.
If you have any questions or need any additional assistance, please do not hesitate to contact us via celticstudiescongress[at]uu.nl.