Sightseeing in the area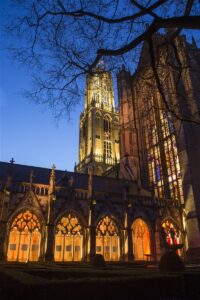 If you would like to combine your visit to ICCS '23 with some sightseeing, we've selected some highlights both in Utrecht and outside of it.
General information about museums, canal tours by boat, walking tours and other outings may be found on Discover Utrecht. General information about outings in the Netherlands may be found at Holland.com.
Utrecht – General Interest
The Universiteitsmuseum Utrecht | University museum Utrecht offers fascinating glimpses into the world of research and science and is also the home of the Old Botanical Gardens.
At the Betje Boerhaave Museum, you can step into the world of 19th-century shops
The Botanische Tuinen | Botanical Gardens, located at Utrecht's Science Park, are a wonderful tranquil space to relax and learn about biodiversity.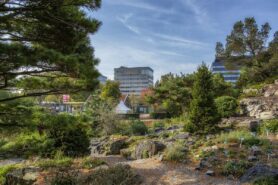 The Centraal Museum Utrecht boasts a wonderful collection of historical and modern art.
Famous Dutch, and indeed Utrecht, icon Nijntje has its own museum! Nijntje Museum is fun for young and old, and even the occasional linguist, as Nijntje books have been translated into more than 50 languages and dialects, including Welsh.
In Rietveld Schröderhuis | Rietveld Schröderhouse you can visit the Architectural highlight of 'De Stijl'. This house was built by Gerrit Rietveld in 1924 and is still in its original state.
Museum Speelklok offers a wonderful collection of historical self-playing musical instruments, including the typically Dutch 'draaiorgels'!
The Spoorwegmuseum | Railway Museum preserves the railway-related heritage of the Netherlands and even has a tiny train rollercoaster for the little ones.
Sterrenwacht Sonnenborgh is a nineteenth-century observatory, built on a sixteenth-century bastion. It offers a wide range of activities, including a tour for people who are visually impaired.
Utrecht – Churches and Convents
Utrecht's fame is strongly linked to it's wonderful Domtoren | Domtower, the construction of which began in 1321. It is possible to visit both the tower and the museum underneath the tower, called DOMunder, which boasts finds dating back to the Roman period. There is also the lovely Pandhof van de Dom | Court of the Dom, which is a lovely tranquil space in the middle of the city.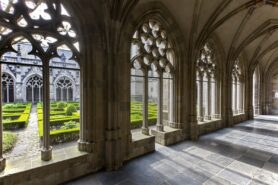 The nineteenth-century Roman Catholic Church Sint Wilibrordkerk | Saint Wilibrord church sometimes hosts concerts and lectures.
Museum Catharijneconvent is located in an originally 12th-century convent and hosts wide-ranging exhibitions, often connected to religious artefacts or experience.
The Pieterskerk is one of the oldest churches of Utrecht as construction started in 1039. It is possible to take tours of the building, which still contains a fourteenth-century grave and twelfth-century decorations.
Near Utrecht – Roman Limes
Castellum Hoge Woerd offers a modern interpretation of the Roman Castellum that was once located at that very spot. It hosts an archaeology museum, a petting zoo, and a restaurant.
If you feel brave enough to take up that Dutchest way of transportation, the bicycle, it is possible to follow interesting cycling routes along the Roman Limes and the historical site of Roman temples:
Near Utrecht – Medieval Interest
The medieval city of Den Bosch is well worth a visit, with its medieval Saint John's Cathedral, its Noordbrabants Museum, and its Jheronimus Bosch Art Centre.
Nijmegen calls itself the Oldest City of the Netherlands, and has a lovely city centre and a museum specialised in archaeology and art (Valkhof Museum) to prove it!
Leiden is a lovely university city, which is also the home of the National Museum of Antiquities and is located in the midst of the famous Dutch flower fields.
In the Middle Ages, a number of cities joined the Hanze trade union, among which were several Dutch cities along the river IJssel. Many of these cities, such as Zutphen and Hattem, have lovely historic city centres and picturesque museums. Of particular interest is the Librije in Zutphen, which is the oldest public library in the Netherlands (1561-64) and is still in near-original condition, including the famous 'books on chains'.
There are very many castles of various dates in the Netherlands. An overview may be found here but a brief list is provided below:
Near Utrecht – Living History
There are some Living History musea, which offer reconstructions of past ways of living.