Cultural Programme
The cultural programme is free of charge, but registration for the activities helps us in planning them. A description of the various activities in the cultural programme may be found below. A description of the excursions may be found on this page.
Monday
To bring the festive first day of the conference to a conclusion, Medieval Ensemble Aventure will perform some melodies from the fourteenth-century medieval Dutch 'Gruuthuse Manuscript', while situating it in its European context.
This will be followed by a tasting of both whiskey and jenever (traditional Dutch liquor and the precursor of gin) organised by Macallan Whiskey and traditional Dutch distillery Wynand Fockinck Jenever  acompanied by typically Dutch 'bitterballen', vegan-style, as developed by Utrecht company Fungi Factory, who use local organic waste to grow their mushrooms.
Tuesday
Tuesday evening, you can explore the city of Utrecht in a variety of ways: the boat tour will show Utrecht in all its splendour from its well-known canals, and will provide you with an entirely different perspective of the city. The walking tour will allow you to wander through Utrecht by foot with a certified guide, so you can experience the medieval atmosphere of the city with all your senses. Finally, the cycling tour is probably as Dutch as it gets and will give you a taste of Utrecht's medieval history as well as its famous cycling infrastructure!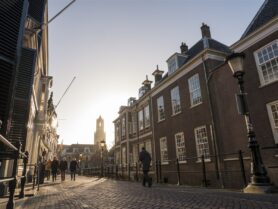 Thursday
A 'borrel' (Dutch for 'informal reception') will be held in the medieval Paushuize, named after the first (and only!) Dutch pope Adrianus VI. Not only does it boast a beautiful setting for our reception, it has also been nominated as the most sustainable monument in the Netherlands, after an extensive renovation in 2014.